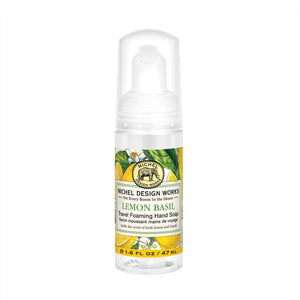 Lemon Basil Travel Foaming Soap
Wherever your travels take you, it's easy to bring along our foaming hand soap. It's sized to fit in your pocket, purse, or backpack and formulated with shea butter and aloe vera to gently cleanse and moisturize. Made in the USA.
Fragrance Notes:
Citrus notes of lemon and mandarin enhanced with green basil leaf
Since 1987, Michel Design Works has been crafting premium collections of products that today range from beautifully scented personal care selections to exquisite home accents. A perfect blend of design and function. Popular as gifts and perfect for everyday use, these offerings bring an artistic touch to any home.
Made in the USA
1.6 fl. oz. / 47 ml
Approximate size: 5 x 1.4 in. / 12.7 x 3.6 cm