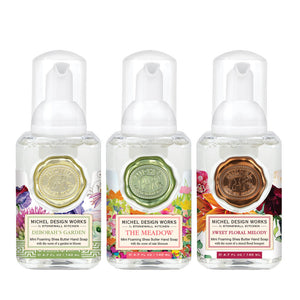 Mini Foaming Soap Set: Deborah's Garden, The Meadow, Sweet Floral Melody
Our immensely popular foaming soap is packaged in sets of three Mini Foamers with a sampling of irresistible, complementary scents and designs. Perfect for on the go or in the kitchen, bath, or powder room. Lovely as a hostess gift–or as a personal treat.
Deborah's Garden: With its dramatic palette of pinks and purples, this stunning design celebrates the abundance of a showy summer garden.
The Meadow: Take in the beauty of a serene country meadow with blankets of lush, painterly wildflowers in full bloom.
Sweet Floral Melody: A burst of colorful flowers, butterflies, and greenery evokes the feel of a summer garden all year long.
Fragrance Notes:
Deborah's Garden: Heady floral notes of jasmine and cyclamen with base notes of cedarwood and cashmere
The Meadow: Floral meadow after a storm with heather, cyclamen, and mimosa
Sweet Floral Melody: Bouquet of white flowers and tuberose touched with honey, coconut, and mimosa
Since 1987, Michel Design Works has been crafting premium products that today range from beautifully scented hand soaps to brightly printed napkins. A stunning blend of fashion and function, each item is decked out with colorful, intricate designs inspired by antique art from the 18th and 19th centuries. Popular as gifts and perfect for everyday use, these offerings bring a touch of attainable luxury to any home.
Volume: 4.7 fl. oz. / 140 ml each
Approximate Size: 2 x 1.75 x 5.38"" / 5.1 x 4.45 x 13.65 cm